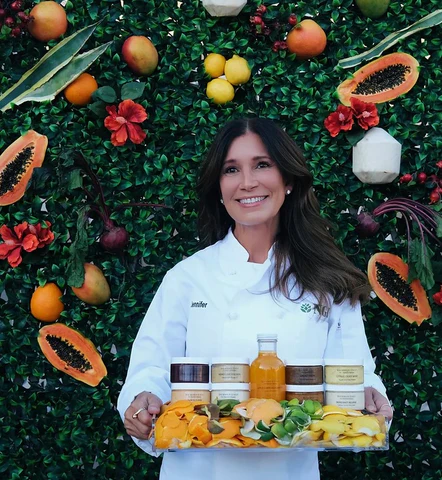 Chef Jennifer Sanford's lifelong curiosity with clean, handmade skin care originated during her teens in a desperate effort to combat her chronic cystic acne. After countless attempts with over-the-counter and prescription medications, Jennifer discovered a solution she never anticipated…in her kitchen.  Using only whole foods, she crafted treatments that greatly reduced the frequency and severity of her outbreaks. These dramatic results sparked a life-long passion for wellness and curiosity about natural ingredients in skin care. 
​This interest accelerated during Jennifer's infant daughter's battle with eczema. Through diligent trial and error, Chef Jennifer discovered that harsh chemicals in the laundry detergent were the source of her daughter's condition, and she began to carefully curate the products kept in her home. Spurred by the desire to protect her family, Jennifer diligently researched toxic ingredients in our skin and hair care products; she discovered that "clean" or "organic" products promising to deliver health benefits still contained undesirable preservatives with potentially detrimental side effects. Even companies that claimed to remove harmful ingredients only replaced them with new additives that lack long-term research backing their health impact. 
In 2017, Jennifer walked into her living room to find her teenage daughters' faces slathered in fluorescent pink, sparkly face masks. Caught up in the social media-fueled face mask craze, they believed they were practicing self care and nourishing their skin. After an inspection of the labels, Jennifer was alarmed to discover that these masks – laden with harsh chemicals and preservatives – were accepted as the standard for "natural" skin care. This was unacceptable; it was unjust that corporations took advantage of those desperately seeking skin care solutions, from vulnerable youth struggling with acne to women facing pressure to look "perfect." That moment, Jennifer was hit with a revelation: if you can store your beauty items in the cabinet for years, there's a good chance they don't belong on your body.
Could a formulation exist that did not contain any preservatives or chemicals? One that benefited people of all ages and skin types? Was it possible to discover a "liquid gold" derived from nature – skin care that would help people realize they deserved better? 
Out of these questions, the journey to create the S H I M M E R  C H E F  skin, scalp, and hair care line began in earnest. 
After six months of rigorous study at the Natural Gourmet Institute Culinary School and the completion of a 100 hour internship at the organic, wellness focused fresh meal delivery service Provenance Meals, Jennifer earned her diploma as a Health Supportive Culinary Arts Chef. During her time at NGI, Jennifer investigated whole, plant based, living foods as the key to wellness, studying the properties and benefits of hundreds of ingredients. She also supplemented her previous knowledge of Ayurvedic medicine, which she gained during her 500 hours of training for yoga and meditation certification. She was advised by master chefs on everything from Root to Stem Technique to fermentation to the use of herbs and oils for medicinal purposes, affirming her belief in the power of food-based nutrition as skin care. 
S H I M M E R  COMPLETE, a revolutionary pre and probiotic, organic, fresh, chemical, and preservative-free product line for skin, scalp, and hair care was developed by Chef Jennifer Sanford after countless hours of research during Chef training. Drawing from her understanding of Ayurvedic medicinal plasters, Jennifer created powerful formulations that nurture our internal and external microbiome. Using her signature Vitamin C Infusion Technique, Jennifer intensified the bio-availability of potent plant sources through fermentation, harnessing the power of nature to provide a new gold standard. 
The growing field of scientific research corroborates that our skin is a living, breathing organism and plays a direct role in our mental and emotional well being. As our body's largest organ and our first defense against environmental stressors, fortifying our skin and scalp is crucial. In the same way we consume nutrient-dense foods to promote our physical health, we benefit by feeding our skin with plant-based, fresh nutrition. Chef Jennifer believes that when we honor ourselves inside and out, we will shine brighter.
​This interest accelerated when Jennifer's infant daughter battled eczema. Through diligent trial and error, she discovered the harsh chemicals in their laundry detergent were the source of her condition, and she began to carefully curate the products they kept in their home. Over the years, she kept abreast of research findings about toxic ingredients in our skin and hair care products. Upon further research she found that even products labeled healthy or organic still contained undesirable preservatives and had potentially detrimental side effects. Many of them were removed, and then replaced with new preservatives, only to learn a few years later that these additives also had undesirable side effects.
​During her 500 hours of training for yoga and meditation certification, Jennifer was introduced to the ancient healing techniques of Ayurvedic medicine. The use of herbs and oils for medicinal purposes and wellness enhancement further supported her experience that only fresh, preservative-free products can be fully trusted.
"I'm passionate about disrupting the accepted way we care for our skin, scalp, and hair." 
Chef Jennifer Sanford
S H I M M E R  C H E F Founder
Meet Holistic Nutritionist & Health-Supportive Chef, Steevi McNeely, CNP. Trained alongside Founder Chef Jennifer Sanford at the National Gourmet Institute, Steevi brings her knowledge and expertise on the power of plant-based foods to our growing team. Steevi's experience in the health and wellness field ranges from personal cheffing and 1 on 1 health-coaching to product development and innovation in both the retail and food service space.
Steevi is passionate about helping others reach their optimal health goals and educating her peers and clients on the power of whole, plant-based foods. She believes that feeling and looking your best starts with what you put into and onto your body – anyone can benefit from a foundation of whole, plant-based, nutrient-rich foods.
An avid runner and outdoor enthusiast, Steevi spends her downtime running or walking the Vancouver Seawall in beautiful British Columbia where she has lived since 2016.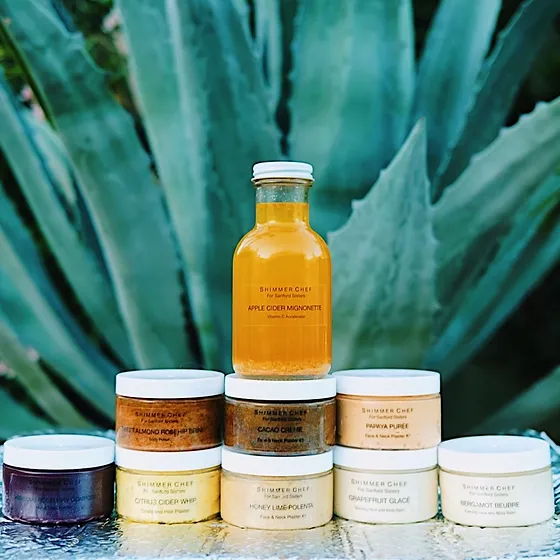 Our Products
S H I M M E R  C H E F's raw plasters and balms is lovingly handcrafted with the highest quality organic, whole foods and formulated with our Vitamin C Infusion Technique to maximize nutritional accessibility. Alchemy Achieved for all skin types.

S H I M M E R  C H E F's product line contains living nutrition and must be refrigerated.

Shop Now